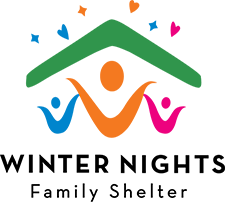 you can help as a
Volunteer
The Winter Nights Family Shelter program is possible only due to the generosity of our host congregations and volunteers. Read below to learn more about these two options.
become a

Host or Co-Host
Since 2004 faith groups and  congregations have welcomed the families of Winter Nights into their social halls. They provide a communal living space, access to bathrooms, and coordinate a team of volunteers to prepare meals, organize activities, do laundry and sleepover each evening. Often host congregations are supported by a co-host group who take on additional days of volunteering. The result is an effective and powerful collaboration, bringing together many different faith communities in Contra Costa to support families at their time of need.
Winter Nights will be adapting this model for the foreseeable future, due to coronavirus protocols. While these restrictions may limit the time volunteers can spend at the shelter, it does not mean that volunteers are not needed.
Over the years more than 60 faith groups and congregation have come together to host or co-host the shelter.  If you are interested in joining them please contact us at info@cccwinternights.org  for more information.
Read the Host Manual for More Details >>
become a

Volunteer
If you are not affiliated with one of our host or co-host congregations there are still many ways to help. Support from Scout Troops, Charitable Leagues and businesses is encouraged and welcomed!
Examples of how outside groups have volunteered with Winter Nights include:
Activities
Organized activities for children, including arts and crafts, games, a mobile video game truck, a petting zoo, a magician, and super bowl parties!
Family Meals
Hearty homemade meals, made with love and kindness, have been a key element of the Winter Nights Program. Families and volunteers share daily meals together, they listen and learn from each other. Children benefit from a schedule and feel safe and secure in this consistent family-oriented routine.  
Email info@cccwinternights.org to be connected with a host or co-host coordinator and become part of their volunteer team and ours.
Ready to join us?
Help us to make a difference in the lives of homeless families in Contra Costa County.
Host a Fundraiser
Make a difference and have fun doing it. You'll bring people together and help families stabilize and thrive.