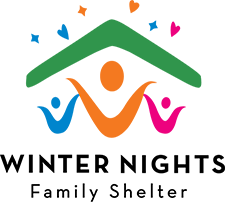 new client eligibility to
Get Help
If you need shelter for your family, please call us at (925) 435-2074 or email us at info@cccwinternights.org.
Client Eligibility
The Winter Nights Family Shelter serves families with children. All clients must be clean and sober, and adults must commit in writing for themselves and their family to comply with the behavioral standards of the facility as outlined in the Client Participation Guidelines. Continued participation in the program requires such ongoing compliance.
To be determined eligible for participation in the Winter Nights Program, the applicant must meet the following basic criteria:
• Be a family with dependent children. Such a family is defined as one or two parents, with minor children present. The definition may be extended to include a grandparent or a guardian with the children.
• Be deemed homeless. Homelessness is defined as having no access to traditional or permanent housing. The homeless may be finding temporary or occasional shelter in cars, on the street, in places not meant for human habitation, or staying on a rotating basis with friends or relatives.
• They may be living in severely overcrowded units (more than one family per unit).
• Willing to commit in writing to comply with the Client Participation Guidelines.
• Willing to work toward self-sufficiency and permanent housing.
To ensure that the Winter Nights Family Shelter is an appropriate placement for an applicant, all who apply will be asked to supply the following information. Those whose needs would be better met by another program or service will be referred during the intake or screening process.
Read the Client Participation Guidelines [PDF] >>
Our Partners
We keep families together. We model what collective spirit looks like and we build a plan TOGETHER for lasting change. Our method works and 80% of families exit our program into sustainable housing.
Shelter Inc.
Offers permanent supportive housing for families with mental health and chronic substance abuse problems, and owns and operates permanent affordable housing units. Some Winter Nights clients find permanent affordable housing through Shelter Inc.
Contra Costa County Employment and Human Services
Provides Contra Costa residents assistance with employment, child care, housing, and other services.
St. Vincent De Paul
The Winter Nights Oasis site for clients who need daytime shelter is located at the St. Vincent de Paul facility; St. Vincent de Paul Society also provides job training – and sometimes jobs – for Winter Nights clients.
Hope Solutions
Winter Nights Partners with Hope Solutions who provides permanent housing solutions and vital support services to highly vulnerable families and individuals.
Family Justice Center
Supports the healing of domestic family violence survivors.
Food Bank of Contra Costa and Solano
The Food Bank of Contra Costa and Solano distributes food directly to low-income people at community sites.
Monument Crisis Center
Offers nutritious food, quality resources and referrals for families.
SparkPoint
A United Way-sponsored program that has been very effective in helping Winter Nights clients find jobs, reduce debts, improve credit and increase savings.
Mt. Diablo Unified School District Homeless Outreach Program
Provides educational and related services for homeless students in preschool – 12th grade. HOPE helps to provide meals for students, transportation assistance if needed, and referrals to community resources.
Contra Costa County Office of Education
Partners with Winter Nights Family Shelter to protect our clients' school rights and provide support services for homeless students.
Opportunity Junction
Opportunity Junction provides assistance with job training, career counseling, and college counseling.
Lincoln Families
Lincoln provides personalized care through integrated programs focused on education, family and well-being.