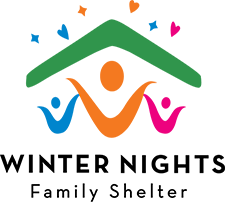 support us
Volunteer Principles
Ten Principles for Providing and Maintaining Healthy Boundaries for Volunteers
1. Maintain healthy boundaries when working with Winter Nights guests. Many guests have experienced infringements or assaults on their proper boundaries. Often these experiences leave our guests unable to create or understand healthy limits.
2. Providing a structured way of living, with a routine and an expected outcome, helps guests begin to trust the program and themselves.
3. Listening conversing and validating the guests is the best way to assist them. Treat each person with respect, impartiality, and confidentiality. Do not try to "fix" client issues.
4. Respect our clients and their dignity and encourage them to do as much as possible for themselves.
5.Guard against "over-caring". Our goal is to achieve the mission of the program – warm safe lodging and meals.
6. Always remember to ask yourself, "Who is being served by the action I am about to take?"
7. Maintain professional boundaries to avoid guests taking advantage to meet their perceived needs.
8. If you observe a pattern of behavior that seems inappropriate or potentially harmful, inform the staff Site Supervisor or Program Manager. Don't attempt to manage this yourself.
9. Guests are responsible for the care and supervision of their children and volunteers should ask parents whether they can assist, tutor or spend time with the children.
10. Do not have contact with the guests outside the program or after they leave the program. Do not provide personal information to any of the guests. These acts are a violation of appropriate professional behavior.
The Winter Nights staff created a Safe Environment Policy to establish rules and requirements for the program that addresses the roles of hosts, the Winter Nights paid staff and the clients.
Rules
• Congregation Coordinator clears names of Volunteers through Megan's List
•Paid Winter Nights Staff is always present
• No closed doors; no one-on-one with guests; no bathroom w/ guests' children
Volunteers will follow leadership of Winter Nights staff. In case of concerns about staff performance or any aspect of the program (1) consult the paid staff first; (2) then the volunteer coordinator; and (3) ultimately the Program Manager and Executive Director.