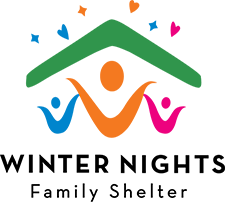 Donate
Donor Advised Funds
Winter Nights is thankful for the generosity of people who support our mission by recommending grants from their Donor Advised Funds (DAF). These gifts help us to continue our vital work, connecting and serving homeless families with compassion and unwavering support.
Donor Advised Funds at Work
• DAFs are administered through a third party. These might be community foundations, a financial institution, or an individual charitable organization.
• The donor donates cash, stock or other assets and realizes the tax benefits in the current tax year.
• If the gift is other than cash, the third-party organization will liquidate it.
• The donor is able to recommend gifts to charities of their choice at any point in time.
• The sponsoring organization distributes the grant to the charity of choice.
Benefits of Donor Advised Funds
Tax benefits: Contributions to DAFs are tax deductible in the year that the donation is made. When a donation include long term appreciated property, that donation will not incur capital gains tax.
Flexibility: DAFs allow donors to separate the decision from giving a charitable gift, from the decision about which charity to give to. Donors can contribute to a DAF when it is financially advantageous and distribute their gift at a later date, even in the following years.
How to Make a DAF Gift to Winter Nights Family Shelter
1. Request a grant distribution through your DAF sponsor.
2. Be sure to use the Winter Nights Federal Tax Identification Number 84-4775540.
3. Indicate whether your gift is unrestricted or designated to a specific program, for example the Parking Lot Program.
Mailing Instructions
Winter Nights Family Shelter
404 Gregory Lane #7
Pleasant Hill CA 94523